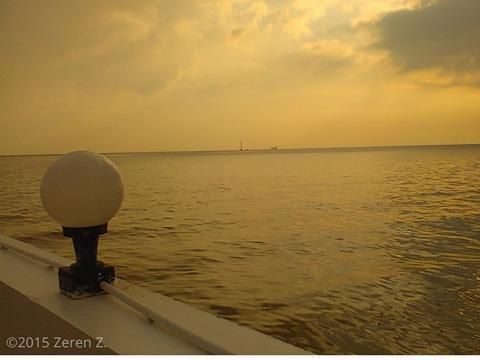 .
Yesterday, After we finished at Erawan Museum we went to Bangpoo Resort… It was terrible…
The resort's house has 2 bedrooms and 1 livingroom. One bedroom has two beds… em… I'm not sure they were beds or rocks. I couldn't lay on the bed because it was very hard and rough. I've never seen as hard beds as these before. They were very terrible.
The air in the bedroom was uncomfortable and not clean. We couldn't open the small window for flesh air because the sewage outside smells bad, and outside had mosquitoes, probably a million of them.
.
I check in the resort at 6 O'clock…, but I couldn't spend my time in the house until 7pm. because my mom had to spray insecticides to kill many mosquitoes in the house.
.
After spraying insecticides, my family got me to eat dinner and take photos… Bangpoo's scenery is okay but… not fantastic for me.
When dinner was done, my family took some photos. Then, we came back to the house. I wanted to continue writing the diary but…, I started to feel sick… severely sick.
.
Last night, I had a high fever at 40-41 C., perhaps, I couldn't do anything; play, sing, walk or write the diary. I needed to sleep but… I couldn't lie my back and sleep on the rock bed!! it's torturing!! T___T
.
Luckily, I brought some blankets from home, so… I made a bed on the floor. It's not comfortable but better than the rock bed. I paid 2,000 bahts for the house, bed and hot shower but…, I didn't get anything with 2,000 bahts. The house is bad, the beds are terrible, the water heater is not working!! Everything is bad in this place. I-WILL-NEVER-COME-BACK to BANGPOO again!